Makers of rather strange animation.
NEW FEATURES:
click HERE to see our animation demo reel.
click HERE to visit our YouTube site.
click HERE to see our holiday e-card.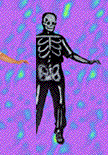 Contact John Schnall
973.771.0151
e-mail:
notmyjob@quality-schnallity.com
---
FEATURES:
See what John Schnall's been up to at the Quality Schnallity Playhouse!
For Midnight Matinee, click
HERE.
For Quick-Time clips from films by John Schnall, click
HERE.
Read an interview in Animation World Magazine
HERE.
If you would prefer to view this site in FRAMES format, please press
HERE
.
Click
HERE
for a valuable coupon!
Wanna have endless fun? Then click
HERE
.
---
| | |
| --- | --- |
| | |
| Have you clicked the spinning skull today? | For a preview of our latest production, click the image above... |
---

Find out about John Schnall's 9/11 film on Cinemax

---

Hey you, check out our Crossword Puzzle Songs!

---

To visit the exciting world of Polly and Esther,

click on the brain:
---

DEPARTMENTS:

how to make an animated film

what is Quality Schnallity, anyway?

here's where you buy a really cool video

the best of the web, and here's where you'll find it.

...and now we take a comedy break...

Get a FREE* T-Shirt!

(100% Cotton)

an idea who's time has come.

while you're in the buying mood, here's a great CD offer

(*fabric not included)

---